The Kilimanjaro photo gallery below will give you visuals of what you could
experience with an adventure with Kilibound Adventures.
---
Lemosho Trail Videos
Below are Kilimanjaro videos of adventures with Kilibound Adventures.
Day One – Gate to Forest Camp
Takes you from sign in at the Londorosi gate to Forest Camp, roughly 9,000 feet/2,743 meters.
Day Two – Forest Camp to Shira 1 Camp
Breakfast and a morning dance; walk through the rainforest zone and onto the heather zone.
Day Three – Shira 1 Camp to Moir Hut
Shira 1 Camp to Moir Hut today, and walk most of the day at 11,500 feet with a clear view of Kibo peak.
Day Four – Moir Hut to Barranco
Today's hike is long and steep. Ascend to the highest point yet and have the opportunity to climb Lava Tower.
Day Five – Barranco to Karanga Valley
Hike to Karanga Valley is short but it is crucial in our acclimatization process.
Day Six – Karanga Valley to Barafu/Kosovo Camps
Short hike with few steep rocky sections, beautiful views of The Decken Glacier. Last day until summit!
---
Meet Our Climbing Kili Superstars
KiliBound's amazing staff of porters, chefs, assistant guides, and guides have safely led individuals between the ages of 11 – 68 to the Uhuru Peak for a successful summit! If you plan ahead, you can successfully climb Kili! You do not need to be in marathon ready shape to attempt the summit, but a good amount of training before you get on the mountain is highly recommended. KiliBound specializes in the routes with the highest number of successful summit rates, specifically the 9 day Lemosho route. You must be at least 11 years old to climb the mountain, and in good general health.
Romin, Age 11

Romin is our youngest climber to summit Kili so far. Romin highly recommends the experience to other kids and teens, and stated on our survey "Thank you – it was da freakin bomb!"
---
Joanna, Age 68

Joanna is our most mature climber to summit Kili. Joanna loved her time on the mountain and was especially pleased with the exceptional service the staff paid to their "Mama"! Joanna challenges climbers more mature than herself to attempt to beat her record!
---
Testimonials
"My son was 11 when we climbed Kilimanjaro with KilBound Adventures, and from the start I felt confident putting my trust in them. James and Kassie well prepared us for the trip and were always available when I had a question. Our guide Gideon made a special effort from day one to make my son feel comfortable, and took special care to encourage him along the way. Chaggi sung songs to him when he got discouraged and walked ahead with him when he felt good. Kilimanjaro is the hardest thing I have ever accomplished in my life, and the most rewarding. I didn't know if I could do it with my hip replacement, but Kilibound was with me the whole way – now I feel like I can do anything! The experience truly changed and humbled me, and my son. Standing at the top of Kilimanjaro with my son, wow – there are not words! Best family vacation of our lives, by far."
Scott, 41
father & family man
---
"I didn't know it was going to be so hard! I did it though. Chaggi boy helped me a lot, he was always with me on the trail and I felt better. My favourite part was Barranco wall, I've never climbed rocks like that before! People in Africa don't have as much as me, on the last day I gave my coat to a little girl whose family had a farm at the bottom of the mountain. I learned that I am pretty lucky, and I'm just a normal kid!"
Romin, 11
Middle School Student & Currently Fundraising to Support Schools in Arusha
---
"I was so impressed with Kilibound Adventures, they thought of everything! My tennis friends thought I was crazy, they said "you are going to climb what?" They thought I was too old. It took me a little bit longer each day then everybody else in our group, but Gideon or Joshua was always with me to make sure that "mama" was okay. They even helped me tie my boots in the morning and take them off when I got to camp! The meals were delicious; I couldn't believe how well we ate and how comfortable everything was. I can't describe in words my experience, other than to say it was a truly amazing journey and above and beyond what I expected. If I can climb Kilimanjaro anybody can do it."
Joanna, 68
Retired Navy Nurse
---
"Conquering Kili has been the most unforgettable experience of my life so far! You have to experience it for yourself!"
Tiffany, 32
Doctor of Oncology & Avid Traveller
---
"Every expectation I had going into our Kili climb was exceeded immeasurably. If you think James is a hype man, just wait until your team starts the day with a dance party and a loud rendition of "Jambo Bwana!" Gideon, Kanini, and the rest of the Kilibound team make each new day more exciting than the last, and all the while make you feel so safe and sound (even when there is more snow and ice at the summit than they have seen in 15 years!!). Your second or third night on the mountain when the clouds have cleared, make sure to brave the cold and check out the Milky Way Galaxy lighting up the night. It is worth every goosebump! Take an hour or two each day to hang in the kitchen tent and chat with your team – the stories they have to share are so much fun. When I say they hold your hand every step of the way, believe me it is literal. When my spastic self couldn't walk downhill without wiping out, Nico held my hand and kept me steady. The summit is the accomplishment and view of a lifetime, but the friendships stick around in more than pictures. Can I go back tomorrow?"
Bridey, 23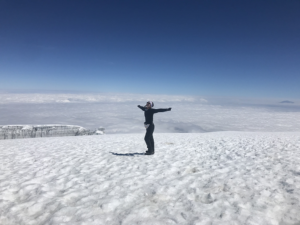 ---
"I could not have asked for a better experience- the Kili crew were all outstanding! The guides and porters were always up for great conversation, all of our meals were delicious, and anytime we were feeling defeated the Kili crew was right there to push us on with their words and songs of encouragement!!! Gideon was an amazing guide- very knowledgeable about the mountain and what conditions we were likely to experience on each day of the climb, and always on top of everyone's safety! I cannot wait to climb again!"
Sharon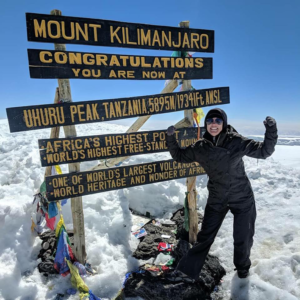 ---
"It's been three months since my Kilimanjaro climb and I still get emotional just thinking about the experience and every time I reminisce I find myself just itching for my next adventure. I never could have imagined this trip having such a big impact on me. Being at the summit was, and probably will remain, the coolest thing I have ever done. Standing on top of Uhuru Peak is equal parts peaceful and exhilarating and the sense of accomplishment you feel is unparralled. The crew that James works with are some of the most amazing people I have met and I am still in awe of everything they do. They work so hard to make this experience a successful one for each climber and they do it all while singing, dancing and smiling. The porters and guides have some awesome stories to share and go out of their way to make sure you are comfortable and happy each step of the way … and then there's the food!! How they fed us better on a mountain than I eat at home is beyond me but what they cook up is truly impressive. When people ask about the climb I have a hard time explaining just how awesome everything was because I still can't wrap my head around it. All I can say is I would recommend anyone looking for an adventure to do it! And do it with Kilibound!!"
Emily