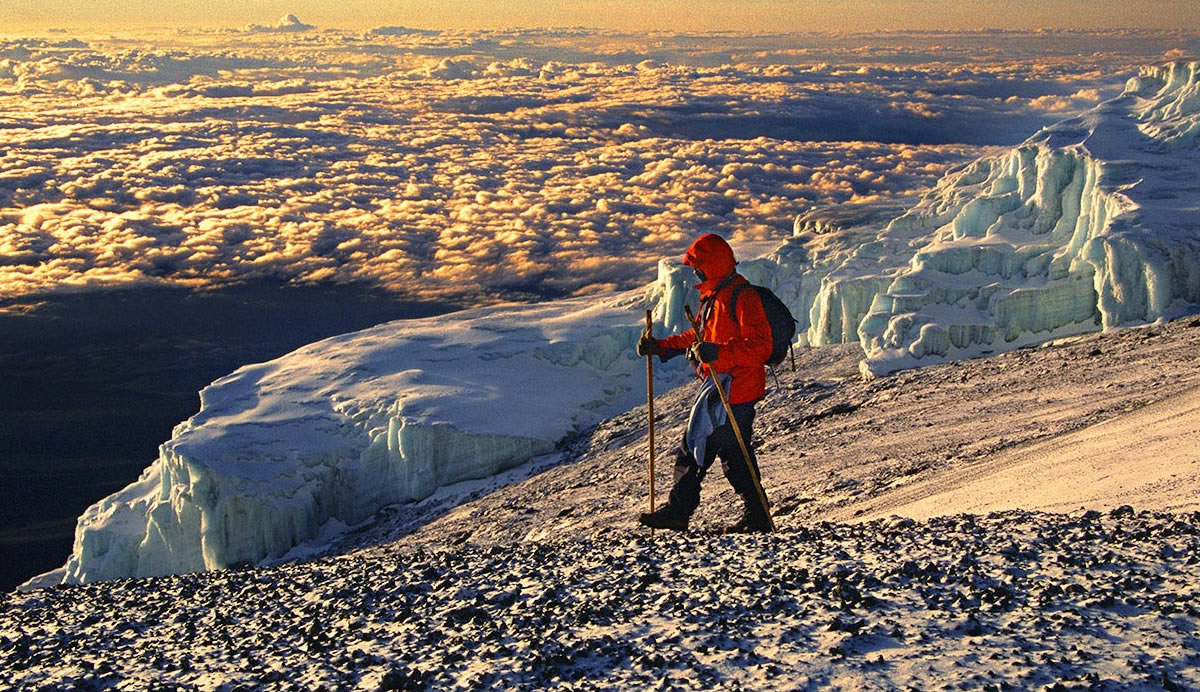 The Shira Route Climbing Mount Kilimanjaro is a relatively gentle and incredibly scenic route to the Rooftop of Africa ("Uhuru Peak" Uhuru a Swahili word that means Liberation). Encompassing the Shira Plateau, this route provides breathtaking views of the African landscape below. Finally, the Western Breach Summit path is a more difficult route to the summit which incorporates some serious scrambling and climbing. It is thus generally favoured by those individuals looking to add a bit of an extra challenge to their climbing experience.
Day 1
Arrival Day in either Arusha or Moshi
On arrival, you are personally met at the airport by one of our representatives and transferred to your chosen hotel in Arusha or Moshi. In the afternoon there is a full briefing with the climbs manager and your guide. Dinner is included.
Day 2: Early in the morning after breakfast, you will be briefed about Mount Kilimanjaro with the guide before we depart for the Londorossi gate taking about three and half hours. After all park registration formalities we driving to the nearby Simba campsite. After lunch we start trekking through heather and moorland to the first camp (about 1-2 hrs) to Shira 1 camp (3505 m) for dinner and spending the night in tents.
Day 3: After breakfast we continue walking towards the Shira Hut for lunch 3926 m. The day is spent acclimatizing. A visit can be made to the Plats Cone on the ridge. Dinner and overnight at the campsite.
Day 4: In the morning after breakfast we continue to the east passing the junction towards the peak of Kibo. As we continue, our direction changes to south east towards the Lava Tower. Shortly after reaching the tower we come to the second junction which divides away to Arrow Glacier and Barranco. We have now reached an altitude of (4876 m). We now continue down to the Barranco hut at an altitude of (3860 m). Dinner and camp overnight.
Day 5: Barranco Hut (3950 m) to Karanga Valley Camp (4200 m). The morning starts with a scramble up the almost vertical Barranco Wall to an altitude of about 4 200m. After lunch we encourage you to take a rest at this point. Dinner and camp overnight.
Day 6: Karanga Valley (4200 m) to Barafu Hut (4600 m). From here there is no water, so we take care to stock up as there is no water at Barafu Hut. We recommended that all climbers familiarize themselves with the camp before dark because the camp is situated on an exposed and dangerous ridge.
Day 7: An early start for the ascent to the rim of the Kibo Crater between the Rebmann and Ratzel Glaciers, four hours from here. A further hour leads to Uhuru Peak (5985 m). Descent is via Barafu Hut for a rest and lunch before we continue on down to camp at Mweka Hut.
Day 8: After breakfast we continue the descent (3-4 hours) down to the Mweka Park gate and then drive back to your hotel for celebrations.
Day 9: Arusha or Moshi
Breakfast
Departure day. Climbing Mount Kilimanjaro  will come to an end ,If you would like to book additional nights please inform us as early as possible. We will arrange for you to be transferred to the airport or you may join a Kilibound Adventures safari and continue your holiday with us and visit the world-famous game parks of Tanzania
PRICE:
Ask for Price

Why Ask for Price?
We offer Private and Tailor-Made Safari Tours
Price varies according to Seasons i.e High Season and Low Season
Price can be reduced due to the number of people traveling
The price depends on accommodation standards i.e Budget Camping, Standard Lodges, or Luxury Accommodation