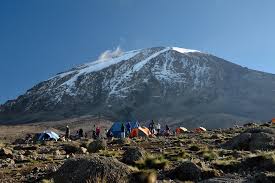 4 DAYS MOUNT MERU CLIMBING
Mount Meru  Climbing  takes you to 4,566 meters (14,980 ft.) high, Mount Meru is a dormant stratovolcano located in Arusha National Park, 70 Kilometers (43 miles) west of Mount Kilimanjaro in the country of Tanzania.
Mount Meru is located just north of the city of Arusha, in the Arusha Region of Tanzania. It is the second-highest mountain in Tanzania, after Mount Kilimanjaro. Mount Meru is also the highest mountain/point in Arusha Region. The Momella route – which starts at Momella gate, on the eastern side of the mountain – is used to climb Mount Meru.This Mount Meru Climbing Adventure with Kilibound will take only 4 days and its good also for acclimatization.
DAY 0: ARRIVING 
Our Kilimanjaro adventure with Kilibound Adventures starts the moment you land at Kilimanjaro international Airport, You will be met by our staff at the airport and transferred to Arusha in the peaceful surrounds of our comfortable pre and post trek accommodation in Arusha from where there are great views of the mountain. You can relax by the pool before your briefing with the Guides, who will provide the essential information for your Mount Meru Climbing.
DAY 1: ARUSHA 1400M – MIRIAKAMBA HUT 2500M
Duration: 5-7 hours of hiking
After an early morning breakfast in Arusha (1400m), you will be taken from your hotel and brought to Momella Gate in Arusha National Park. At this time, the porters will organize and pack your belongings for the hike while you and your guide register with the Tanzania National Park (TANAPA). You will then begin your ascent in Arusha National Park. The first day of hiking is similar to a walking safari; you should expect to see giraffes, zebras, antelope, buffalo, and potentially elephants near the trail. Due to the high possibility of spotting wildlife, an armed ranger, hired through the National Park, is required to hike with our team for the duration of the hike. As you continue hiking, you will pass the Ngarenanyuki River and a beautiful waterfall at the base of Mt. Meru. Upon arriving to Miriakamba Hut (2500m), your chef will prepare a hot dinner and washing water for you. Enjoy the beautiful sunset and overnight.
DAY 2: MIRIAKAMBA HUT 2500M – SADDLE HUT 3500M
Duration: 3-5 hours of hiking
After breakfast, you will start ascending up the steep trail along the ridge of the saddle. You may see various wildlife along the way! The trail has views of Mt. Meru Crater and the Ash Tray. When you arrive at camp, you have the option of hiking Little Mt. Meru (3820m) with your guide to further acclimate. You will be served an early dinner, so you can receive ample rest before your midnight summit attempt. Get to sleep by 1900!
DAY 3: SADDLE HUT 3500M – SUMMIT 4566M – MIRIAKAMBA HUT 2500M
Your guide will wake you at 00:30 for tea and biscuits. You will then begin your summit attempt at 1:30am. The trail starts off on a steep grade to Rhino Point (3800m) to Cobra Point (4350m). The last hour of the hike you will scramble on a rocky ridge between the crater and inner cliffs of Meru. You will reach the summit of Meru (4565m) at sunrise with spectacular views of Mt. Meru Ash Tray and Mt. Kilimanjaro. Enjoy your views then descend to Saddle Hut for a short break. You will then continue descending to Miriakamba Hut (2500m) for dinner and overnight
DAY 4: MIRIAKAMBA HUT 2,500M – ARUSHA 1400M
Duration: 2-3 hours of hiking
After a long rest and breakfast, we will begin our final descent to Momella gate. We will hike through forest and meadows where it is likely to spot wildlife. At the base of Mt. Meru, you will be greeted by our driver who will take you back to Arusha.
PRICE:
Ask for Price

Why Ask for Price Kilimanjaro Climb?
We offer Private and Tailor-Made Safari Tours
Price varies according to Seasons i.e. High Season and Low Season
Price can be reduced due to the number of people travelling
The price depends on accommodation standards i.e. Budget Camping, Standard Lodges, or Luxury Accommodation
Thank you for working with Kilibound Adventures Karibu Tena.