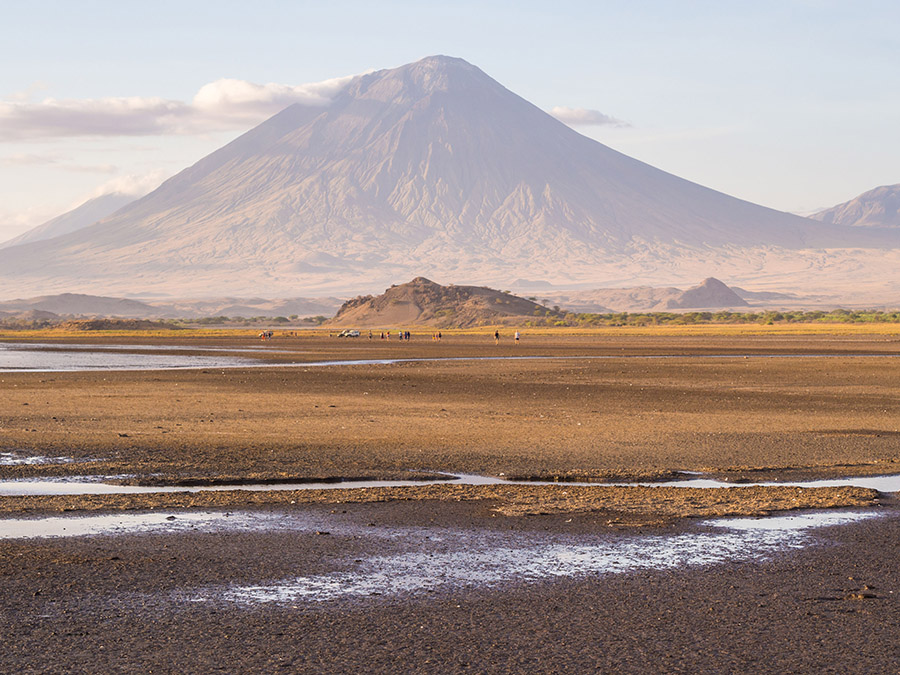 Lake Natron is a Lake situated in northern Tanzania at the border with Kenya, close to legendary Serengeti National Park and the Unesco Heritage world site the Ngorongoro Conservation Area . The Lake Natron is home of ancient hominid foot-prints, the largest breeding ground for the lesser Flamingo and to Ol Doinyo Lengai Mountain, and it's the only active carbonatite volcano mountain in the world. If you'd like to include Lake Natron in your big Tanzania safari, keep reading to find out more about this amazing place.
Area: 1,040 km²
Surface elevation: 600 m
Length: 57 km
Catchment area: 932 km²
Inflow source: Ewaso Ngiro
Countries: Tanzania
Fish found: Alcolapia alcalica, Oreochromis ndalalani, Alcolapia latilabris, Alcolapia grahami
Set between its volcanic hills and deep craters, Lake Natron is at the lowest point of the rift valley around 600m above the sea level and it is probably the world's most caustic body of water at the moment. Natron is fed by the Southern Ewaso Ng'iro River and by mineral-rich hot springs. It's less than three meters (about 10 feet) deep, so it's very shallow, and it varies depending on water level, which varies due  levels of evaporation, leaving high concentrations of salt magnesite and sodium carbonate (natron) ,which shows as a pinkish & white soda crust.
The surrounding of the lake is hot and often very dusty and very dry, which isn't very conducive to travel, but the people who choose to visit Natron are rewarded with some of the most visually captivating scenes in the world. The views alone are worth the journey for you and your family ! Home to the indigenous Maasai people and over one million flamingos, Lake Natron is a perfect base for amazing experience and adventures! The area around the lake offers different attractions like a large number of volcanic implosion craters, numerous waterfalls and ravines with nesting places for Rüppell's Griffon Vultures.
Lake Natron has immense tourist attraction potentials that are important for Eco-tourism development. Nevertheless, lack of a general management plan, inadequate funding at the operational level, lack of mechanisms to secure a fair distribution of ecotourism benefits, and poorly developed tourism infrastructural facilities to support diverse segments of tourists were identified as the main challenges associated with the management of ecotourism in Lake Natron.
Lake Natron in Tanzania is one of the most calm and famous lakes in Africa, but it's also the source of some of the most phantasmagorical photographs ever captured the images that look as though living animals had instantly turned to stone.
Activities to Include in Lake Natron
Mount Ol Doinyo Lengai  Climb
Accomplish a climb to the top of the so "Mountain of God" the volcanic Ol Doinyo Lengai. Climbing the 2,962m  volcano under the moonlight is a other-world and unforgettable experience in Lake Natron. It isn't for the faint of heart but it's worth it for the magnificent views at sunrise from the top. On a clear day expect to see the tips of Meru and Kilimanjaro to the east as they break through the horizon. And if that interests you, read more about Mount Kilimanjaro  and you can hike this highest mountain in Africa too with Kilibound Adventures. To the north side you will be able to see the far end of Lake Natron, to the west-side  you will be able to see across the Sale Plains all the way to the Gol Mountains, a view that is so spectacular you'll think it can't possibly be real. Weather conditions on Ol Doinyo Lengai can change daily so it's important to understand that your guide will make the decision if the weather is not clear enough to start your hike. Once on the mountain, reaching the summit section is also based on daily conditions and guests should be aware there's a possibility they may not reach the true summit, but unfortunately refunds will not be available. Fees for Mt. Lengai are subject to change. Kindly you confirm prices with us before booking.
The Rift Valley Day Hike (6-7 hours)
Hiking the Rift Valley is a great alternative to climbing Mount Lengai. This adventurous hike departs from the camp before dawn and you transfer to the base of the rift valley wall. You then climb the wall on foot, experience the dawn as you ascend close to the Ngare Sero Gorge. You'll take a picnic breakfast with you to the top and you'll enjoy being in one of the most dramatic viewpoints in the area. After breakfast you descend back down via another route, or, depending on time, you could come back the same way. You'll arrive back at camp in time for lunch and then you'll relax in the natural pool or enjoy a massage at the SPA or both depending on your preference.
Ngare Sero Water Falls
To notice these spectacular waterfalls, a decided favorite among our guest, we'll arrange a walk up Ngare Sero gorge. The scenery is a unique blend of arid volcanic rocks and lush tropical palms. It's a terrific setting  to have lunch so please you can ask for packed lunch if you will love to.
Mountain Biking at Lake Natron
Enjoy the Lake Natron on wheels. Jump on a mountain bike and go exploring around the local area with your guide. Please note that this must be booked prior to arrival. This mountain bike at Lake Natron is best done at sunrise or sunset when the weather is cooler.
Bird Watching & Flamingo Lake Walk
In Eastern Africa, the lesser flamingo feed on algae found in soda lakes but they choose to breed at Lake Natron almost exclusively. In fact, approximately 80 % of the world's lesser flamingos are born at Lake Natron. The best times to view these amazing birds are either at sunrise or at sunset when the heat isn't so ferocious. The Lake Flats around the water's edge contain small lakes, streams and hills providing a variety of hospitable environments for birds that thrive in the alkali oasis. There is nowhere else in Africa like Lake Natron, and the flamingos are especially popular with children, making it the perfect addition to a family safari in Tanzania with your children.
Hominid Footprints at Lake Natron
At Lake Natron area you can walk to the hominid footprints where worlds' researchers have catalogued rare finds of well-preserved human footprints left in the mud between 5,000 and 19,000 years ago. No other site in Africa has as many ancient Homo sapiens footprints, making it a treasure trove for scientists trying to learn the story of mankind's earliest days.Good place for historians and archeologist to be.
Natron's Natural Pools
Cool off in any one of the natural plunge pools at Lake Natron Camp and there's also a deeper, larger pool where you can immerse yourself under shade netting out of the hot sun.