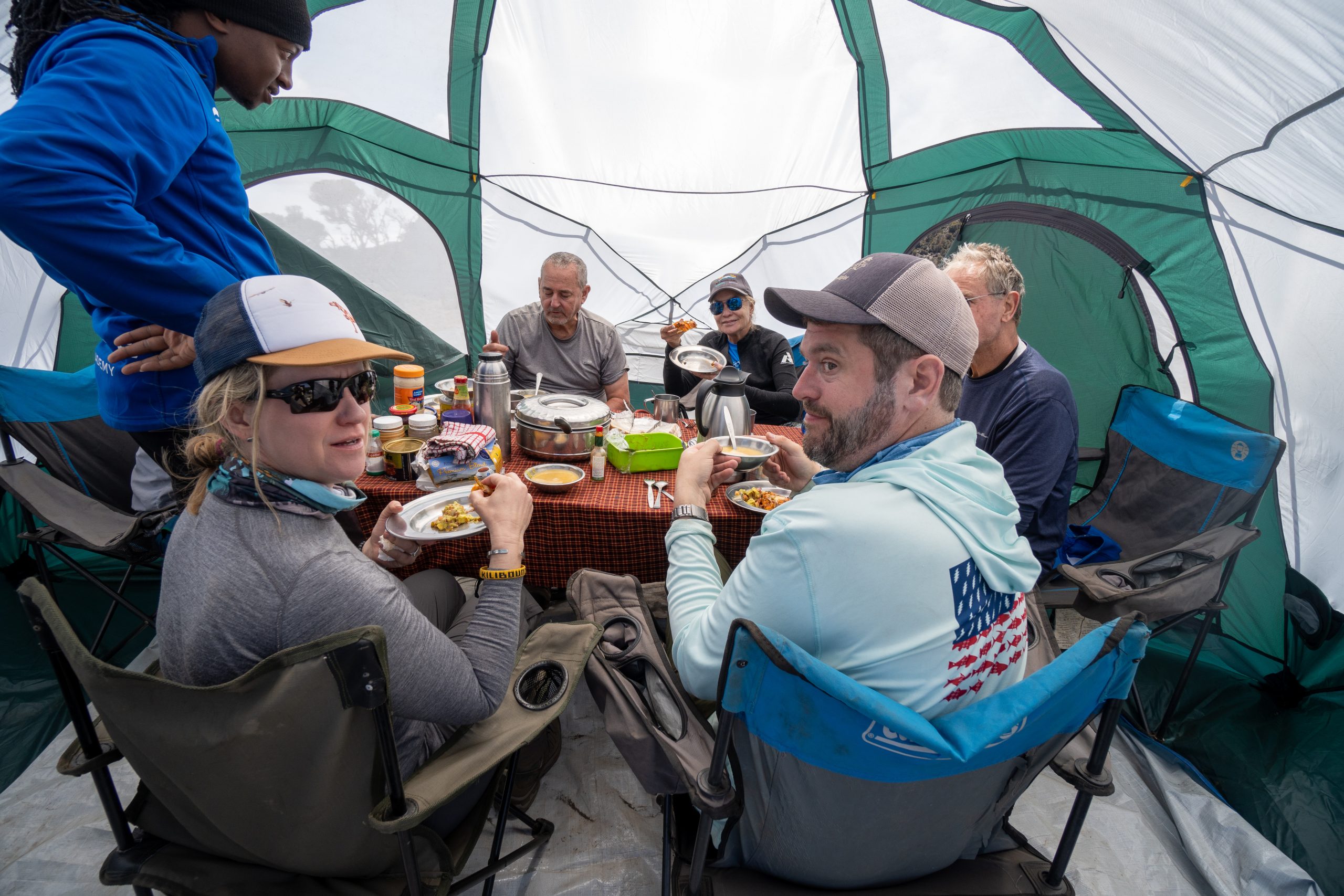 Food & Drinking Water on Kilimanjaro
Kilibound Adventure's smart, experienced and professional chefs will serve large, healthy meals to keep you healthy, happy and well-fed on your Kilimanjaro climb. You'll have hot meals at breakfast and dinner, freshly prepared with locally-sourced ingredients. We prepare all our food to strict hygiene standards, ensuring it's delicious and safe to eat. Our menus are designed to be nutritionally-dense, with plenty of variety to cater to the energy demands of the trek.
Daily Kilimanjaro Sample Menus
We have a dining tent with chairs and for just dinning. Whilst each day you will be served different meals whilst on the Kilimanjaro climb, below is a guideline to what type of food you can expect:
Breakfast -usually porridge followed by sausage and eggs, toast and marmalade or jams and hot drinks such as tea, coffee or chocolate. Climbers are asked to communicate with the guide as regards their appetites or we will tend to err on the side of caution in providing much more food than necessary.
Lunch- usually a packed lunch that you will carry in your day-pack. It normally consists of a boiled egg, some sandwiches, a chicken portion, fresh fruit and a cold drink.  At the end of the day's walking, afternoon tea is served with biscuits, peanuts and, best of all, salted popcorn and plenty of hot drinks.
Dinner- usually begins with soup, followed by a main course including chicken or meat, a vegetable sauce, some cabbage, and rice, pasta or potatoes, with fresh fruit for dessert.
Even though you are far from home we recognize that it's nice to have some creature comforts, so don't be surprised when you see some of your favorite food brands, such as Heinz, Nescafe and Nestle!
We can accommodate all dietary restrictions, just let us know in advance. In the case of very strict diets, we recommend you bring along some of your favorite "energy" foods, as some specialty ingredients can be hard to source in Tanzania.
With the decreased appetite, carbohydrate-based foods are often more palatable than high protein or fats, and altitude changes your metabolic processes. The combination of hours on the trail and your body's adaptation to altitude means you'll have a much higher energy requirement than you would have at home.
Experienced hikers who are used to eating horrible dehydrated foods on the trail are often surprised at the quality and variety of food that comes out of our mountain kitchens. We use only fresh produce, no dehydrated "ready meals" and all food is carried up Mount Kilimanjaro by our porters.
Drinking Water on Kilimanjaro
We provide boiled, filtered, purified water to our climbers at all times. A major cause of gastro-intestinal problems in Africa is as a result of drinking untreated water. We treat all our water, including the water we use to wash food and cook with.Staying hydrated is very important for acclimatization. The dry air, exertion, and altitude can quickly dehydrate you.
How much water should you drink when Climbing Kilimanjaro?
We recommend you to drink around 3-4 liters of water per day. We recommend bringing an electrolyte formula to add to your water, and any flavoring drops if you find plain water too boring.So to sum up healthy Food & Drinking Water on Kilimanjaro is very important and Kilibound Adventures takes care of meals very serious.